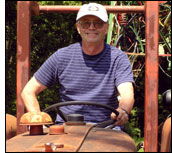 John Martinson was born in St. Peter, Minnesota in 1948.

He has a degree in sociology from Gustavus Adolphus College and studied art at the University of Wisconsin in Madison from 1974 to 1976.

He and his wife moved to Galena, Illinois in 1979 to operate the Galena Blacksmith Shop and Gallery.

In 1986 he opened his own studio, which has grown to become West Street Sculpture Park, where original ideas flow freely into imaginative works of art.